Kitesurfing is a lovely sport. Some people prefer football, they don't want to be alone evidently, though … perhaps when you are kitesurfing you are not really alone. Kitesurfing and animals in the water.

There are things in the water, we all know that. Some people, in their most hidden nightmares, sure have had one where they are in the water and suddenly comes "something" … and then … you just sudenly wake up and you do not know how it follows… Each has his own nightmares, isn't it? It is your right.
The picture that opens this blog it is a postcard, a postcard from a place called Guanacaste, which almost no one, except if you are an american surfer has heard about.
The postcard briefly review some of the " wonders " of the area. Namel: fruit trees, a mango tree to be exact, beautiful tropical birds, beautiful beaches, limpid blue seas …and the girl, of course.
Well, in one of those sleepless nights , which was not yesterday by the way, in which I was not able yet to feel tired enough and get sleep, browsing the net looking for a new and different destination to go kitesurfing after the tourist season, one finds … Costa Rica. What 's the good thing good about Costa Rica?
Several things, to know, Costa Rica have nice tropical weather in November, for example, the language they talk is castellano. It seems there's little or not too much to be concerned about insecurity and criminallity, unlike the other countries on the area, and lots of wonderful beaches, both in the Atlantic and Pacific Coast, where we could try kitesurfing.

The more you read about, the better and more appealing. All seems to be fine, though, suddenly, you find something that takes away the desire to visite and kitesurf in their beaches. Why? What's the matter? What could be so wrong that your thirst of tropical kitesurfing paradises suddenly ends? Very simple, even before being asleep, your nightmare, that old nightmare, coming out of nowhere, is here again!.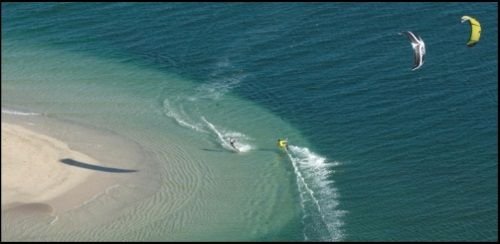 Yes indeed! Those who designed the postcard, forgot one thing. Because … if someone comes to imagine what can happen in the surf, not far from the beach, certainly, will make you to think twice about the possibility that this dreadful scenario it repeats with you as the one in the water.
Do you get the idea, right? That's it! A crocodile in the water!!! And this creature attacks a surfer. Imagine the surprise, the terrible shock when something like that may happen to you.
Here we upload some links about it
http://www.surfosmagazine.com/surfo-sobrevive-a-ataque-de-cocodrilo-de-siete-pies-en-tamarindo-costa-rica/
http://www.margruesa.com/surfista-espanol-atacado-por-un-cocodrilo-en-costa-rica/
In the next two links, it is evident that some guys were, in fact, looking for trouble
Only comment that last October such type of events dissolved my doubts about choosing Brazil, when Isma and Volker wanted to take me there in our kite holidays instead of my original idea to go kitesurfing to Sri Lanka.
I wanted to go to Sri Lanka, a country that has lately become fashionable about kitesurfing. Okay, everyone is going to Kalpitiya which is on the West Coast, but there were a couple of things that I really didn't like: the water is flat and in November, when I wanted to go, the winds blow from east to west, that is, the entire east coast, unless heat creates a thermal wind which is not unthinkable but not proven yet, should receive offshore winds … Kalpitiya lies on the West coast and winds at that time of the year are East direction.

Lovely animals that deserve a chance ins't it, sure, but without me around
In that case it would be best to go to the East Coast and check every beach and even get a small – or large – guide to the places I was browsing for, including the mythical Arugam bay, the surf spot, the quintessential Indian Ocean surf destination in Sri Lanka.
In short, while I was considering some basic facts like where to go and how to move, where to eat, sleep, kitesurf and … the things one can find in there, I ended finding the devastating deterrent statistics of crocodile attacks which take place in this wonderful island.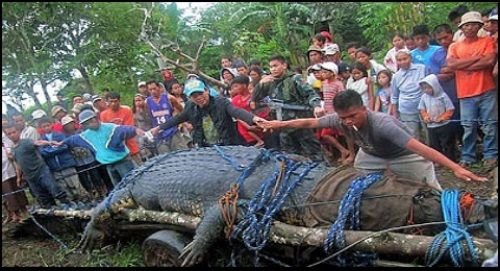 Therefore, and after some final considerations, I decided to abandone the idea and left it for another time when perhaps I will feel more … courageous and willing to accept that something really bad may happen to me for fooling around in unchartered waters with this kitesurfing thing.

Read the board and act in consequence – kitesurfing definitely not recommended –
And then we return to the Costa Rica affair and what happened to the surfer. No good! no good!, in fact, very bad!!!. Not like that, like this, I 'm not going anywhere. What for? when our kite life in Mallorca it is so good and peaceful!.
Come to kitesurf in Mallorca. The worse thing can happen to you is that you die of boredom if you didn't bring with you a big enough kite.
A LITTLE MORE ABOUT CROCS
Of course , we must take into account a little something that is conducive to the croc fooling around in the waves looking to feed himself.

Imagine this lovely animals trying to catch a kitesurfer …
Would you be surprised if the beach where you are kitesurfing is right next to where a river flows, and, you know, these animals live in rivers and some of them, the more adventurous, perhaps decide to venture into the sea to enhance their menu possibilities..
I include a couple of links on the animal in question and their interaction with people living on the banks of the aquatic and terrestrial places where they live.
http://informe21.com/cocodrilo
http://www.sundaytimes.lk/120311/News/nws_13.html
http://www.dailymail.co.uk/news/article-2070539/Scuba-diver-mauled-death-saltwater-crocodile-coast-Australia.html
In short: Basically, avoid always to ride in river mouths, especially in areas where could be crocodiles, but … not just that, as, river mouths use to gather other sort of sea predators, such as sharks and there's always expectable that things could flow down from the river.