Learn kitesurfing!
Kitesurfin what is that?
Kitesurfin, no, kitesurfing! with ggggggg!
Oh okay, so what?
So, learn kitesurfing!
what for? … how dumb this sounds! … Nonsense!
Nonsense not, it's really cool …
Look, it's a sport, it's a lot of fun, you're going to exercise, get in shape, actually you'll fly over the water,
You'll make a lot of friends, you'll never feel alone anymore, you'll have a great time, beleive it!
I am not feeling alone right now though, but, however … that must be expensive, right?
Expensive? no man! … no way! Mmm … well … maybe a little …
How much is a little?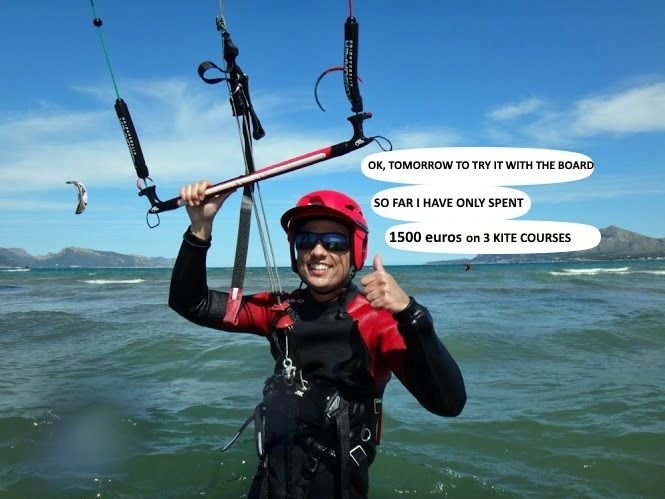 I do not know, a couple of hundred … or three
three? three what?
three hundred euros
three hundred euros? for what?
for lessons …
for lessons? Jesuschrist! this is not cheap …
And … how much cost the equipment?
well, it depends …
What depends on?
On what you want to buy
A new kite cost real money, but … there are also used kites
And … they will not be broken?
Well, sometimes, a little bit … some yes, some not …
That's why you have to choose well when buying a kite
And you're sure this is fun?
Some bad part this must have …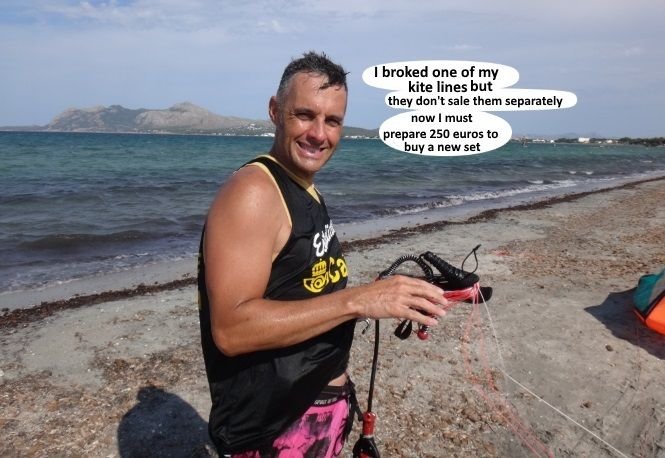 Not man, no! … don't worry!
Well, to be honest … sometimes you have to wait a little for the wind to start blowing …
Other times, when you are kiting, the wind just fades and that is the end of the navigation …
Ah! … and some times when you are pumping the kite … a valve fails, and, fiiissssshhhhh … it deflates
And sometimes you're riding too fast or you jump and you lose control and … guashhhh!!! … big crash against the water!
Apart from the fact that when wind is light, all kiters start to get downwinded and everybody must try to reach shore because, as people kite with small kites and also small boards, of course … the lack of proper wind create big masifications of kiters crossing ways and annoying each other …
And … oh! yes! … sometimes when you are kitesurfing everybody is crossing each other's way, provoquing lines to cross, tangle and that is a big mess …
therefore, when people get downwinded and end up sailing inside the buoys which mark the bather's area … if in that moment pass the Guardia Civil, you may get fined with 3000 euros penalty …
Hey!, you're starting to convince me, do not stop now …
Do not stop now what do you mean?
I have a friend who is masochist and when I will tell him about that, I'm sure he'll be veeeeery interested!
It sounds as a real bitchy activity and it seems to me, the perfect ground for real suffering …
Author's Note:
Come on, relax, that's all a joke. It is a very cool sport
Considering that, if you live in Mallorca and want to kitesurf in summer, which is when the kiting appeals, do not get wrong!
Better buy a large board, or at least a medium to large one, and, if possible, a Flysurfer kite – better a 15 meters size or even bigger
Learn kitesurfing – an option?
Do you want to learn kitesurfing in Mallorca or Vung Tau?
Book your course here at the best price

KITESURFING LESSONS IN MALLORCA +34647891122
kitesurfingmallorca@gmail.com
To contact the school click here