About the inevitable in our transit through life. Our life is a journey, which begins and ends. Surfing and kitesurfing – a road.
The one of our world, the one of waves and the wind.
It is more than evident, with a title as such, little positioning SEO can be achieved, unless it may take placet in the section of philosophy treatises, and that is to say a lot … so we better go to the topic and let it unfold by itself.
We'll start with the first thing, surfing. The undeniable magic of go down a wave, and, logically, the bigger the wave, the more magic … isn't it?
It seemed an inconceivable notion that someone like McNamara, one of the "Godfathers" of surfing big waves, one day, would be challenged this way. In fact, if you think better, all in life it's inevitable.
McNamara, is a Hawaii resident, Garrett for name, was on the lineup the day that Laird Hamilton, who was once the most influential ambassador of the sport of surfing, was towed for the first time into a real big wave.
That fact marked an era and a new challenge, that of being able to ride off waves so big and fast that you could only access them if you were towed by a wave runner device. McNamara saw in that modality his future and afterward came the successes and several recognized records in catching big waves around the world, including having rided a wave of 78 feet – the largest ever officially measured – that was off the coast of Nazaré, Portugal.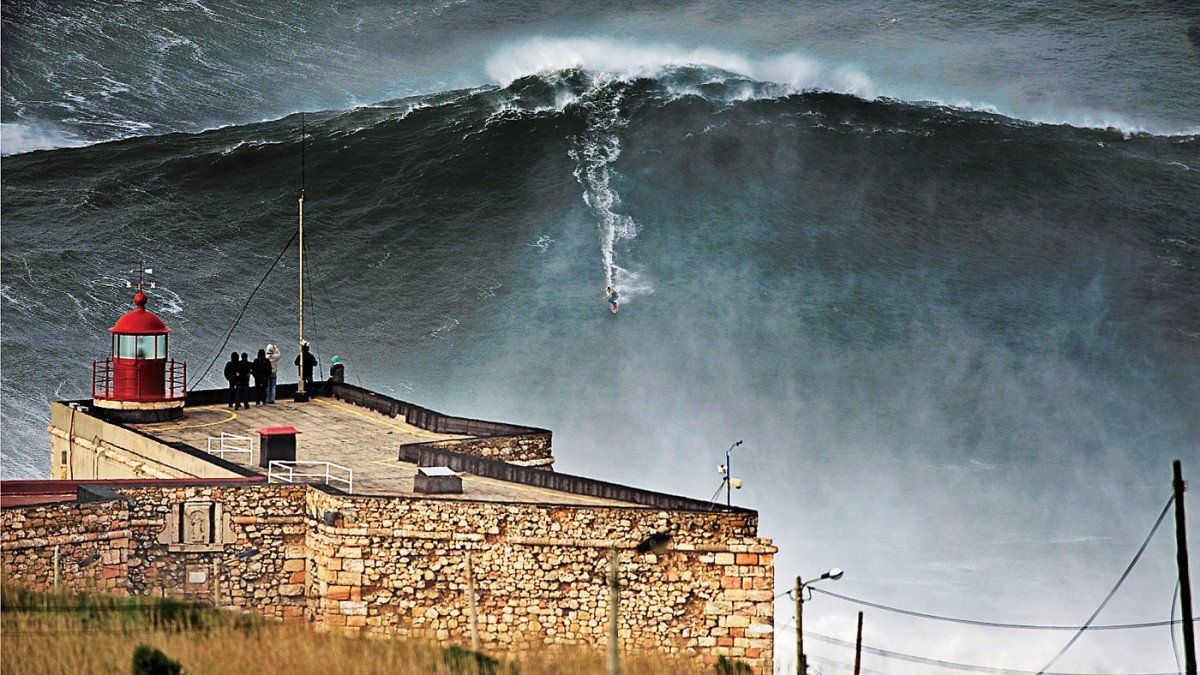 Garrett McNamara – the biggest wave record
Big wave surfers have this extra feeling that makes them trust themselves completely. But in recent years, especially as 2016 approached, the rush of adrenaline that McNamara, then 48, felt when he faced the wave wall had almost vanished altogether.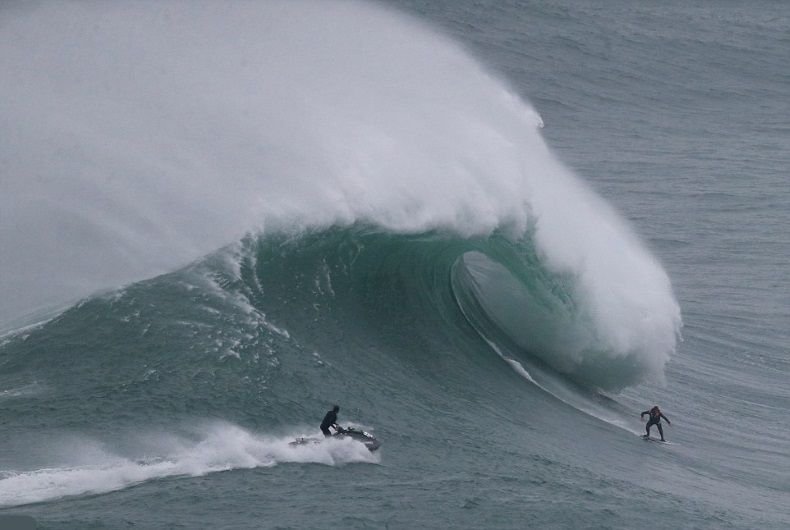 I have put myself in a too comfortable plan, "Garret said. I was starting to feel less and less motivated every time I got in the water. I started riding big waves because of the feeling that it offered me, but now that feeling is nonexistent. I can not imagine why I still have to complicate my life and force myself to lower these giant waves. "
McNamara even thought about retiring despite having a long list of sponsors, could continue to earn money to support his family without risking his life. However, McNamara was still excited every time he heard of an impending swell approaching his island in Hawaii or anywhere else in the world where big waves break.
Like any other surfer in the world and like all big-wave surfers, McNamara consults weather maps several times a day.
It was then that he recognized an ideal set of conditions last January in Mavericks, the big-wave mecca on the California coast south of San Francisco, Garrett knew immediately that he had to be there.
The day of the accident – everything starts to change
Garret, goes to the water equipped with a survival suit that admits the possibility of being inflated if necessary to keep him afloat if he falls unconscious. McNamara paddled one more wave of the thousands of waves in his life as if it were one more wave. That wave, on January 7th, would alter the life of McNamara and the future of surfing.
At a third of the wave face down, McNamara lost his balance and catapulted from his board, bouncing like a rock along the wave's wall. In the end, the lip of the wave broke on him.
McNamara attributed his fall to his excessively straight posture he carried on the surfboard, which prevented him from absorbing the momentum of the wave.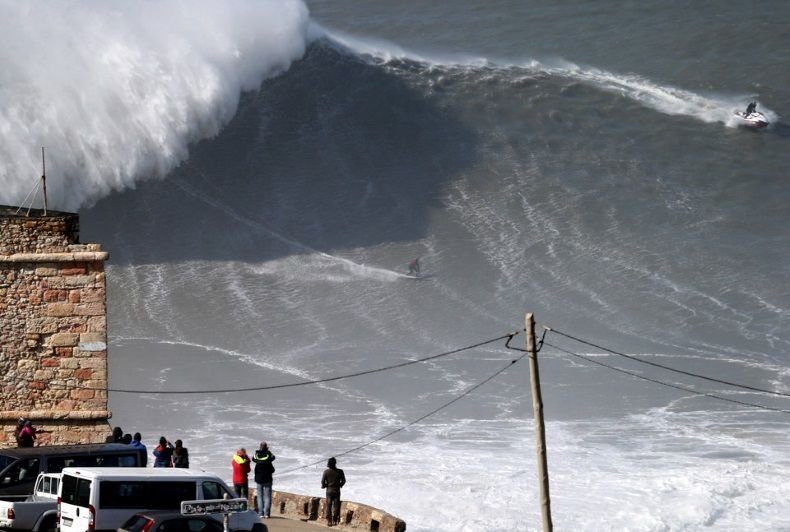 After the terrible impact of the wave against his body, McNamara suffered a fracture of four parts of the humerus bone of his left arm.
His shoulder after going through a delicate surgical operation is stabilized with a metal plate and a series of metal screws, and although the injury was the worst of his career, McNamara was informed that if he started doing rehabilitation immediately, he could be back in the water, lowering loas again in about six months.
The wave in question. Surviving it was already a success.
Several complications arose during the rehabilitation period. A bone in the back of his humerus rose 2 centimeters out of position, and the head of the humerus came out of its natural position. This caused the main nerve of the deltoid muscle, which keeps the shoulder in place, to be significantly damaged. A week after McNamara's initial surgery in mid-January, his shoulder broke again.
The medical team that handled the Garret case thought that it was better not to try to repair the nerve and only give it time to see if it recovered by itself.
There was a chance that McNamara's shoulder would not fit again for surfing. After a one-hour procedure, McNamara's left arm was tied into a pulley system. The machine kept its arm in a constant state of movement and helped slow the growth of scar tissue.
The pain was endless during the first three months but the prolonged recovery managed to recover shoulder and arm, although it had a price: it also changed Garret's point of view on surfing. "For the first time in my life, I did not have this monkey I needed to catch waves," said McNamara.
"We were having the biggest winter we've ever had in Hawaii's surf history, and it did not really matter to me."
However, he did not settle for his body to heal in its own way. McNamara worked the same way in his recovery with an anxiety that for others seemed manic. Even in mid-recovery, during a trip to Malibu, California, in June, McNamara rode a few small waves. "I did not have to do it, anyway, but it made me feel better."
After that confidence boost, he doubled his rehabilitation efforts in August, meeting daily with Daniel Bachmann, a trainer whose specialty is shoulder mobility and mechanics. By December, the range of motion of his left shoulder was barely 80 percent.
Garrett during his recovery reflects on surfing after the wildest wipeout of his life
Each big wave surfer has at least one epic story to tell. You fall in a wave and in that giant washing machine, the air is running out at some point, then you get out of the wave, your confidence recovers without forgetting what you just happened but you know that you have to go back down waves. If you wait too long, the fear inside you builds up. "
That's why McNamara quickly accepted an invitation to the inaugural event of the World Surf League on Big Wave Tour in Nazaré, which began in October. The place, in a village in the center of Portugal, McNamara knows the wave very well, has dropped it many times and for a long time Garrett has been revered in the country.
Jamie Mitchell of Australia won the highest honors in Nazaré when the contest ended at the end of December. McNamara was not fit, nor sure enough, to compete. Rather, it helped to organize the event.

"I still do not feel comfortable enough riding any wave bigger than 20 feet," said McNamara. "I recently went out in a big wave and suddenly I noticed that I was scared. I kept thinking: What if I would get hurted myself again?.
Surfing has largely defined Garret McNamara's life, and those around him were worried about what it would be of Garret without the same passion that had moved his life?.
In the words of his wife, Nicole: "I was worried about his mental health if he did not go back to surfing". "He has always told me that he will work wood, as a carpenter when he can no longer surf, but he has never done anything for me in wood."
McNamara hopes to return to Mavericks on the anniversary of his accident. After the accident, he continues investigating the weather maps on a daily basis, so on Wednesday, three days before the anniversary of the accident, he will decide to risk his health to join the other big wave riders in the water.

For Garret McNamara, understand how his life changed forever was important for his recovery. I could go out and if I like a wave, catch it but if I do not like it avoid it and yet all went well, nothing happened to me and I felt not especially guity for not catching it.
Somehow, I also feel that the wave that knocked me down and changed my life this last year was perhaps the best thing that happened to me. He forced me to see life from another perspective
The question I ask myself, says Garret, is why am I still doing this? I have not had enough yet?
What was a challenge, to look for that emotion that I felt when I started to lose waves, still being there? Is there a why in all this? When should we drop anchor ?.
And our man says: "Now I know that I have to value even more when I used to lower each wave, but inwardly I did not really value it. Now I would like to find out if I still have the rush to catch big waves after this wipeout.
I hope that I will still be able.
Time will tell. Really, it would be great! …
The recoil of any firearm
You do not need to have shot a gun – me, like almost any other Spanish person, I've never done it before – but to imagine that, it should not need a lot of imagination, yes, it must exist some recoil.
Something similar happens in our brain when instead of dedicating ourselves to what everyone is dedicated to, we have broken that cadence and changed it for another one, for your freedom, something so radical that it includes our own way of living, of seeing things, so that , in some way, it is so radically different from the other life that the average guy choses to live that … it has its own sort of recoil.
This report about Garret, in English, of course, fell into my hands a few days ago, and, it was in a moment, without knowing how or why, in which I saw reflected myself on it, saving the differences.
Nothing is further from my intention to compare myself with Garret neither at a sporting level nor at any other level, he is himself, and I am myself …
He, a surfer of big waves, me, a bit of everything, surfer, windsurfer and kitesurfer in the end, for the last 21 years.
He, a famous person, me, well, a couple of friends know about me and that's it.
He has a family, me, not even a puppy to bark at me.
He, a waterman, me too, although not because of the fact of living in another place that is not Hawaii one does not deserve that name. The one who makes bread ?: baker, …
He, 48. Me, 62. He has suffered an accident that has opened his eyes, I have not, I have not suffered anything … but it has not been necessary, the feeling, strangely, even before having read his report, It comes to me almost in the same way and with the same intensity.
And … should I continue with this? Is there anything beyond kitesurfing? … After 42 years of being a waterman myself.
Without fame, without recognition, ok, but with my recognition, that is what really matters to me.
What has been my life, with my many, many hours in the water.
Surfing, windsurfing, kitesurfing, in any wind, in any country, in any month, on any day of any year … of the last 42 years.
No children, no woman, no mortgage to pay or have already paid, often without a steady job.
Dragged by my hobby, for the freedom to live like that, as I chose to do it, just because it was my decision, as I have lived all those years. Without much economic success but without betraying myself neither.
Doing what my heart told me to do, with a calm conscience, and my pockets, in contrast much less calm, of course, but with the certainty that you get over the years and see that you are still here and still doing the same, that you like, what's your thing.
How would it have been otherwise? What would have happened to me, to my life, if, cowardly, I had ignored the inner call and I would have done what everyone else did, work, do something that you probably do not like or care about.
Have that little time that almost everyone has to do what they like and have bowed their heads every time the circumstances sent you a signal … watch out! heading this way you go nowhere … you will not make money, it seems that you are going to end up alone, alone and not exactly wealthy …
But on the other hand, enjoying the freedom, the solitude, the greatness of the sea, of the beach, which is what somehow counted to me after all, even though some -or many of you- all that may seem not the big deal … but of course, it meant to me. I only know that because I have been the one who has lived it, that I am the one who has been by my shadow, more clearly visible the days that were sunny, by the way, though, in fact, all that time.
Above this lines the author in the performance of his duties.
With the one hundred, two hundred, five hundred and more stories of a lifetime in the water, the last seven years, spent almost mellifluously, I admit it.  But however, when you live within the last three months, all this hardcore kitesurfing experiences again, far from those much lighter in Mallorca, here in Vung Tau – Vietnam, with its winds and waves, as I have lived them, riding almost every day, with radical kites, with much more wind of what I'm used to on our island.
There … things changes, and the question appears … yes, the one I made myself some lines ago … the same one that made Garret to himself, that same question that makes me question myself, what are you doing?, why risk myself again and again, with the strong wind whipping you in the face: Is this really what I want?  I want the risk?  I want the adrenaline?
… and on the other hand, what else is there? if this is what you have been doing for the last 42 years every day …
What if I do not go kitesurfing today?   Will I feel better later?  I'm going perhaps to feel worse?
I betray myself if I do not go kitesurfing today in this 35 knots? … and if by believing that I am betraying myself if I do not out today? What if I'm going to break myself kitesurfing out there?
But … is it back there, on the ground, in the city and its streets anything that still interests me?
What a dilemma?  Has my time arrived? The Garrett syndrome has reached me too? …
I do not know … I'm telling you tomorrow, because … now … I think I'm going for one more ride …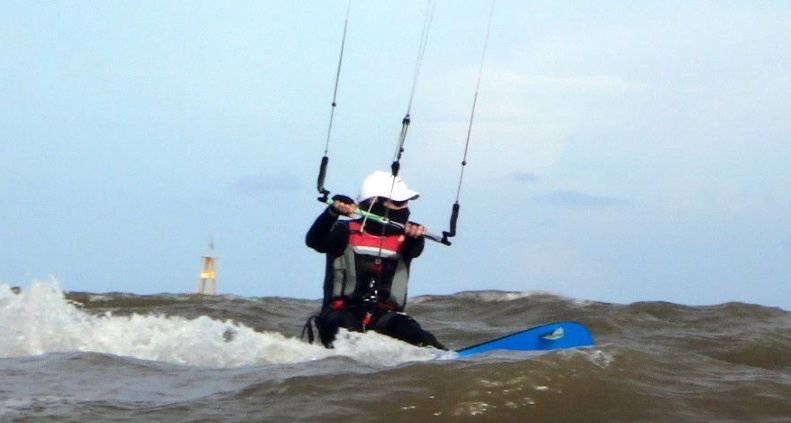 me, and my circumstance .. is it time to get phylosophical now? … please, C'mon!