Is it a flysurfer kiteschool in mallorca where you can learn and test the amazing flysurfer kite foils? Yes it is.

Flysurfer kite foils for school are resistant to all operating errors. This delivers exactly the flight feeling you need for a safe entry to the sport. See more information on our sister webpage  www.kitesurfingmallorca.com
Flysurfer kites are easy to fly and relaunch from the water. Flysurfer kites consists of more than 100 different parts that work together perfectly to achieve the desired result, flying stable, even in the lightest breeze, stress-free fun, no matter in the beach or in the water.
FLYSURFER kitefoils real light wind machines
See all the information about their products on the official webpage www.flysurfer.com
The perfect wind force to learn Kitesurfing it is between 6 and 16 knots. At stronger wind speeds any kite develops too much power which can be dangerous especially for beginners.
The best learning progression it is achieved in low/moderate winds. Only when you have really gained enough control you can start practicing in stronger winds.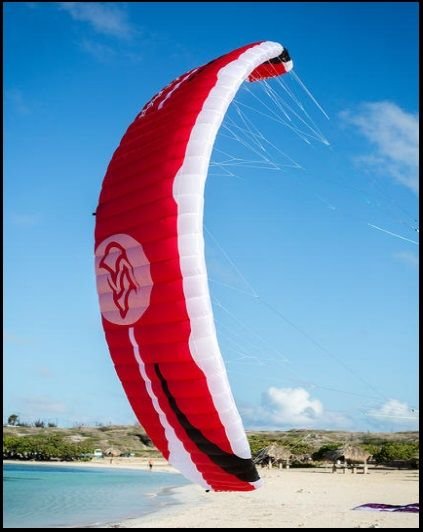 Flysurfer kites are the only kites performing well in low winds, starting in 6 knots. Its construction is similar to a paraglider but with special types of fabric whoch are water repellent and very air tight.
Based on the rate weight/ span and due to the lack of heavy latex bladders, flysurfer kites which are used on our kiteschool are much lighter than a tube kite and more wind efficient.