The international sign to identify other users that we want to land the kite is touching the top of the head with the palm of the hand. How to land Flysurfer kite foils.


The best method to download a Flysurfer kite foil type kite is just over the side edge of the wind window and let's an assistant to grab it, then, immediately, we advance toward him, which will make the kite lay down sideways as if it was a flag, and therefore to depower the kite and make the kite lines slack, without any tension.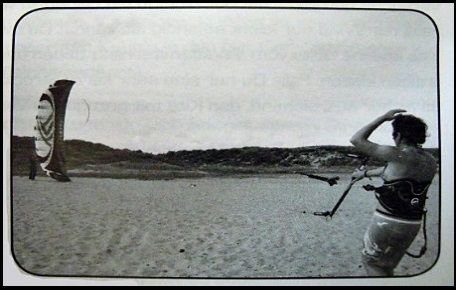 The assistent will firmly hold the kite by the middle of it while he will walk towards the kiter. Once the lines are depowered will deposite the kite on the ground securing the lower end of the kite with enough sand.
Sometimes, you can also land the kite by the Back Stall method, that is, as the photo above shows, taking the side lines well away from the bar and pulling both lines at a time, which will cause the kite to lose the angle of efficiency, by falling to the ground as will not have enough angle to fly.
This landing maneuver can only be done in very light wind and preferably not with very large kites, like 15, 18 or 21 meters, as they could escape our control and restart the flight starting from the zone of maximum power, which is very dangerous and must be avoided at all costs.
The method described at the beginning of this topic is always the most appropriate. I mean, thanks to an assistent and at 90 degrees with the wind in the wind window.