Your first kite course
Your first kite course should be your last kite course. Unfortunately not necessarily it is like that.


This. We can tell, don't happens if you are taking a kite course with us www.mallorcakiteschool.com but, as we see very often, this, the necessity to take a second or even a third kite course it occurs very often.
Why is it so? Why somebody needs 2 or 3 different kite courses to learn kitesurfing?
In the following link you are going to find the reasons why that happens so often.
OUR KITE SCHOOL AND THE FIRST 3 HOURS
Christian and his first kite course
The simple fact to decide to learn kitesurfing it is in itself a brave decision. To find the right wind and water conditions to ease this process it is definitely a clear priority. Don't get fooled by promised winds or by other kiters performing complicated freestyle manoeuvres.
The best kitesurfing conditions for learning are, light winds, flat or not wavy waters, shallow enough waters to allow you to learn without getting drowned in the experience.
Plus the right kitesurfing teaching equipment, which not necessarily means the latest equipment or the fastest kite.
And, above all, the right tuition.
The next are just four photos of a recent success / kitesurfing lessons in Mallorca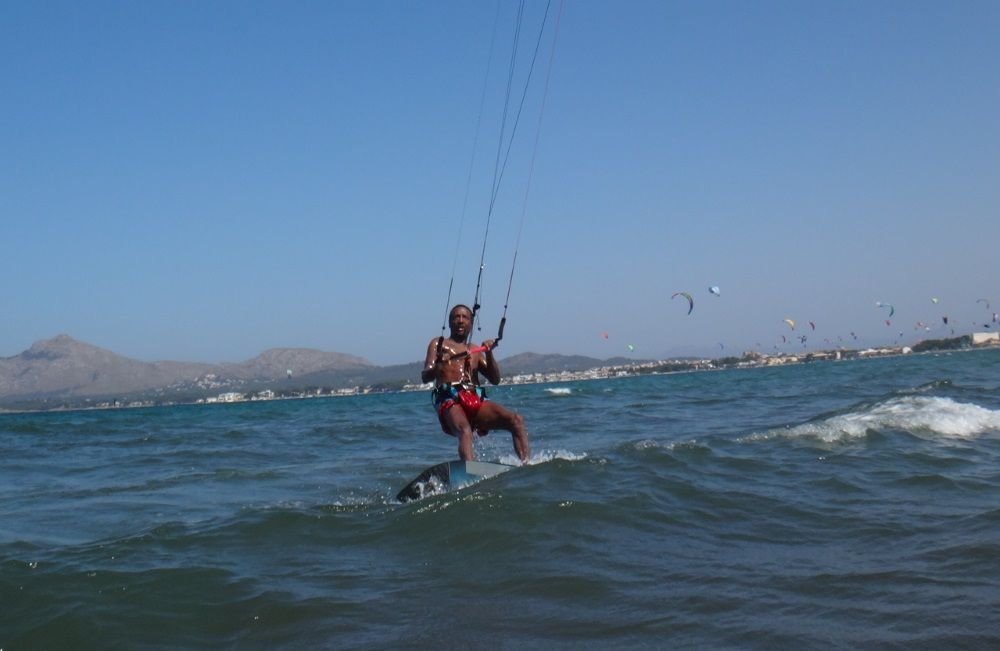 Kitesurfing up in the kiteboard for the first time. Christian on his  waterstart, riding towards Puerto Pollensa. Pollentia Club Resort – kiteschool for the last 10 years, same kitespot  www.mallorcakiteschool.com
kitesurfing – in spite of the small waves and the chop -even flatter water conditions may be better- Christian is managing to control on his kite ride
kitesurfing – crossing in front of some astonished eyes, your other kite course fellows, silent witness of your final success
kitesurfing – after only 7 hours of kite lessons with www.mallorcakiteschool.com Christian is riding away, foto for a Facebook profile? Most surely … don't you think? …