Kitesurfing Mallorca – Spring has arrived to Mallorca
Yes, spring has come to the island, also in the bay of Pollensa. The beach of Es Barcares is a layer of posidonia, which was brought by the storms and the winter winds from the west and northwest.
The temperature changes with the passage of days. The 12 degrees Celsius are already 18 and sometimes up to 20 Celsius at noon. The thermal winds appear some days and we enjoy life practicing kitesurfing. Also happy for those who learn on their first practices in our kite school.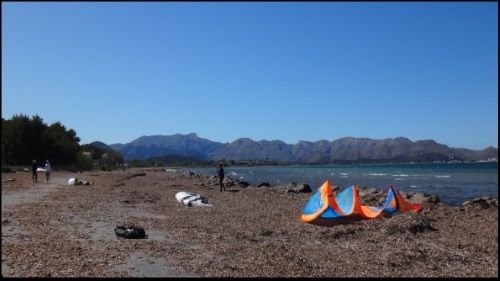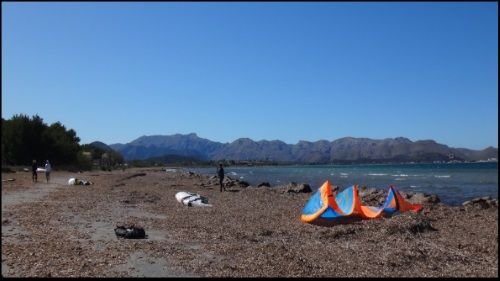 Northeast Mistral wind on the bay of Pollensa
Among the best months of the year to learn kitesurfing in Mallorca, low prices on flights and lodgings, no masification, nice weather and temperatures, thermal winds daily and easy friendly winds. Come to Mallorca and learn kitesurfing with www.mallorcakiteschool.com and club kite club Asociacion Aprende a Navegar.
Spring has arrived in Mallorca
At Es Barcares beach, a kite foil of Flysurfer german kite brand on flight, a Speed ​​4 Lotus model, a perfect kite riding through the 14 knots of West-Northwest winds that are blowing in April.
Kiter passes in front of the camera on the 14 knots west-northwest wind on Sa Marina – Es Barcares Spring kitespot of Mallorca.
Mistral wind on Pollensa Bay 20 Celsius air temperature, water 17 degrees Celsius. The inviting weather conditions and the perfect background for well-powered kitesurfing riding across the water

Are you planning a kitesurfing vacation? 
Visit us in Mallorca this Easter
Kitesurfing in North Mallorca, Es Barcares kitespot with northeast wind on Pollensa bay
If you have any questions, need advice, help or a kitesurfing course, please contact us, we are happy to help.
Our first kitesurfing students of the year in our Mallorca kitespot enjoying the mild weather conditions and the shallow waters of Pollensa Bay in the municipality of Alcudia.
www.kitesurfwindsurfmallorca.com
Mallorca is waiting for you to learn kitesurfing this Spring with www.mallorcakiteschool.com
Spring has arrived in Mallorca / kitesurfing kiteblog