June is a good month to learn kitesurfing in Mallorca. Our beginner kite course on this blog entry will show you that wind and sea conditions where ideal.


The first thermal winds reach the northern coasts of Mallorca, from the early days of heat at the end of March. This climatic effect intensifies as the days go by and the heat is more noticeable.
April and May are months when the thermal winds alternate with north and westerly winds and sometimes with some southern windstorm but that is not really frequent, perhaps in the month of March most likely. Although from beginning of April and on, the thermal winds are getting more relevant and will impose on the forecasted weather in the central hours of the day.
And finally comes the end of spring and the beginning of summer. Now the heat is so obvious that thermals arrive on time every day almost certainly from about end of April and the whole month of June and on until the end of summer.
Beginner kite course in Mallorca
Svenja, a young and sporty German lady has decided to spend her holidays in Mallorca, and she has contacted Mallorca Kitesurf school. Svenja wants to learn kitesurfing.
She has applied for membership in our kiteclub Asociacion Aprende a Navegar and she has chosen to take just one day kiteboarding lessons.

In general, it is necessary to take 6 to 9 hours of kitesurfing lessons to start watering and to have the first kitesurfing rides.
But Svenja has only one day off to dedicate to learn kitesurfing, because the rest of her time has to be dedicated to her family which is living on the other end of our island.

We told Svenja that learning kitesurfing would take perhaps a bit more than just one day of kite lessons, but she was so dedicated and so happy about her lessons that she got in 3 hours what in average uses to take 3 days of learning instead
The photo report and the videos speak by themselves. From Mallorca Kiteschool we congratulate Svenja for her amazing skills and also for her ability to remember, understand and to learn the different steps of our kitesurfing lessons.

Technique of handling the bar of the kite
The key to an early progression in learning kitesurfing lies in the complete understanding and visualization of the following lines, in which you have in your hands "the secret weapon" of kitesurfing learning success. We are refering about the movements which you must precisely perform with the control kite-bar of the kite.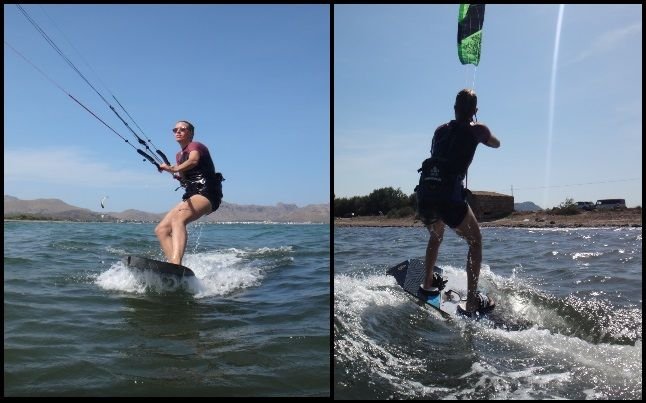 1 .- We need the kite bar and the kite always aligned in the same plane
Voice to repeat mentally: PARALLEL
2 .- We always have to pull the kite bar with both hands at the same time
Voice to repeat mentally: TENSION
3 .- then we have to pull a little further yet with the upper hand
Voice to repeat mentally: RIGHT
4 .- When the kite is in front of us, we have to push the kitebar with both hands
Voice to repeat mentally: UP
5 .- we have to wait until the kite is at two o'clock
Voice to repeat mentally: WAIT
6 .- We must repeat all the procedure in the opposite direction
PARALELL – TENSION – LEFT – UP – WAIT
Once you have learned the whole procedure and become familiar with its performance … the success is knocking at your door …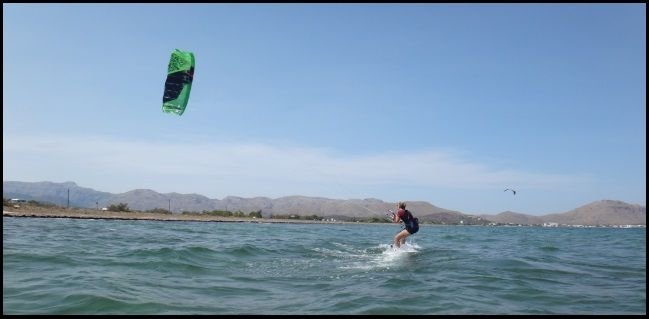 Beginner lady Svenja on her 1 day kite course in June with www.mallorcakiteschool.com
Another example of how can you learn kitesurfing in two days