Which are the best kitespots and the best time to kite in Mallorca? To this questions there are, logically the consequent answers. Let's see about it all in the following lines.


BEST KITESPOTS
This blog entry requires a special amount of seriousness and responsibility at the same time.
Actually, I wish it was possible to practice kitesurfing where we wanted.
But, obviously -how else-, there are regulations that seek the interest of the beach user to the detriment of the person that for practicing his sport, could put other people at risk.
Once this is understood, we can see that Mallorca, being an island where, although there are many beaches, the space, due to the huge influx of tourism, is logically quite limited.
With this in mind, it is easy to understand that we should not violate the law in any case or put other people at risk of accident because of the wrong decision to kitesurf in a beach not suitable for kitesurfing.
And this is where you have to resort to common sense and obedience to the requirements that the law indicates. With this, I am referring to the Spanish Law of Coast.
Basically, the Law of Coast says, among many other points of interest, that there should be no navigation at a distance of less than 200 meters from the shoreline, as long as it is a beach, that is, sand. If instead of sand it is a zone of rocks, this distance is limited to 50 meters from the coastline.
Therefore, the following links, although they may cause displeasure to some people, directly address compliance with the law and the basic common sense necessary to have a kitesurfing session in the adequate conditions, putting the common public interest before our self-interest.
Where to go kitesurfing?
Best kite spots of Mallorca
Where to Kitesurf in Mallorca
Pollensa Bay – Municipality of Alcudia / Authorized kitesurfing area of Mallorca
ARE THERE OTHER KITESPOTS?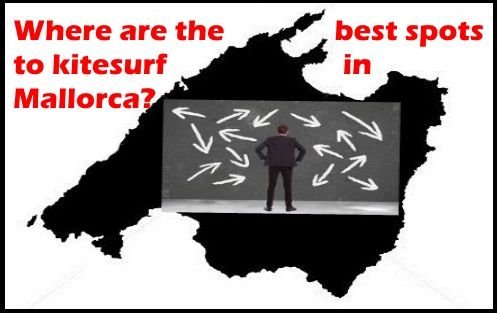 Kitesurfing in Playa de Palma
Kitesurfing in Playa de Palma
Should we kitesurf in Can Pastilla?
Kitesurfing in Son Serra de Marina
Wind conditions depending of the average
weather patterns in Mallorca
Regarding the different weather patterns in Mallorca, we can describe how winds use to affect our island and which are the best time period to visit us.
We could say the best time of the year, considering the probability of having good winds, at the same time that temperatures are more appealing, it's Spring, actually, mid Spring and Summer, which is definitely the best time of the year for learning or practicing kitesurfing.
WIND INFO IN MALLORCA/Kitespot Mallorca/KITESURFING ACCOMMODATION
Pollensa Bay / authorized kite beach in Mallorca
In late summer and autumn, precisely from the early fall season, thermal winds are over.

And Winter, in fact mid Winter and early Spring should be the third part.
I believe it is our duty to inform well to all people that wants to come here, the ones that want to kitesurf, to rent equipment or to learn kitesurfing
BEST KITE TIME IN MALLORCA
Here's a brief but accurate explanation about which are the wind conditions in Mallorca depending of the four periods of time in which it could be divided the year.
Not so much attending about what we know as the standar four seasons of 3 months each, Spring, Summer, Autumn and Winter but from the perspective of the wind we have through the year and describing this periods of time.
1.-  March, good to learn kitesurfing? … in fact few days are really good, depending of the arrival of early possible thermal winds.
Otherwise, mostly NW or W winds, rather gusty and cold.
Good kitesurfing conditions? … sometimes, depending of wind direction and weather -still winter time-  Water not so warm and some ocasional storms from W or SE


2.-  April to end of August: Best kitesurfing conditions of the year
Perfect winds for learning, most of days thermal winds lasting 4 to 6 hours
Infrequent storms, during April and May some occasional stronger winds
3.-  September to December, end of thermals, sometimes ocasional storms from NE or N
Many days of calms and rather uncertain winds, sometimes winds from S
Very unreliable time for having good kitesurfing lessons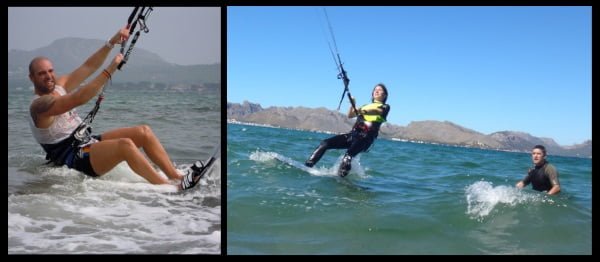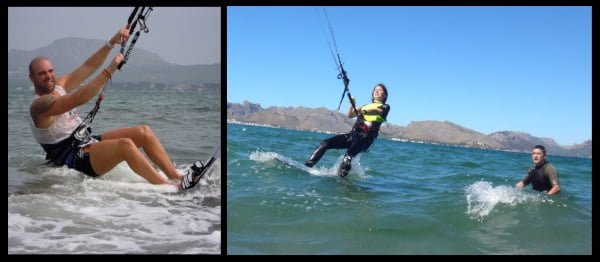 4.-  December to March, the coldest time of the year, bringing calms and windless days alternating with storms, some of them carrying very strong winds.
Winds from N and NW, also from NE which generally bring rain.
Some years also winds from S to SW, which are a bit warmer that those from the North.
Water is yet cold, very few or not a single day of good wind for teaching kitesurfing
It is understandable that not every year it's a copy of the past year. The world global warming is showing us every time more frequently terrible draughts followed by torrential rains in different parts of the planet.
Somehow, Spain and Mallorca, though not suffering too severe damaging episodes of it, we can witness its effect in a way in which summers can be hotter than usual or we can pass from winter – Mallorcan winter-, to almost directly summer conditions.
The goal of this blog entry is to give the closest approach to the real wind conditions which we have in Mallorca through the year.
Before to chose your kitesurfing time to visit our island, before you buy your ticket or book your hotel or apartment, read this important lines or contact us for advice.
See also in the following link:   http://mallorcakiteschool.com/kiteschule/ the first kitesurfing school in the island of Mallorca