Which are the best kitespots and the best time to kitesurf in Mallorca? To this questions there are, logically the right answers. Let's see about it all in the following lines.

Where to go kitesurfing in Mallorca?
Kitesurfing in Can Pastilla/Playa de Palma
Kitesurfing in Can Pastilla/Playa de Palma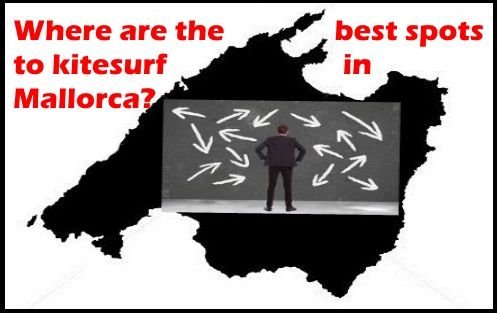 Should we kitesurf in Can Pastilla?
And now, wind conditions depending of the average weather patterns in Mallorca
Regarding the different weather patterns in Mallorca we can describe how winds use to affect our island and which are the best time periode to visite us.
We could say the best time of the year considering the probability of have good winds, at the same time that temperatures are more appealing is Spring, actually, early Spring and Summer, which is definitely the best part of the equation.
Late Summer and Autumm, because early Winter has generally the same wind chances than Autumm, may be the second part of it.
And Winter, in fact mid Winter and early Spring should be the third part.
I beleive it is our duty to inform well to all people that wants to come here, the ones that want to kitesurf, to rent equipment or to learn kitesurfing
BEST KITE TIME IN MALLORCA
Here's a brief but accurate explanation about which are the wind conditions in Mallorca depending of the four periodes of time in which it could be divided the year.
Not so much attending about what we know as the standar four seasons of 3 months each, Spring, Summer, Autumm and Winter but from the perspective of the wind we have through the year and describing this periods of time.
1.-  March, good to learn kitesurfing? … in fact few days are really good, depending of the arrival of early possible thermal winds. Otherwise, mostly NW or W winds, rather gusty and cold.
Good kiting conditions? … sometimes, depending of wind direction and weather -still winter time-
Water not so warm, some storms from W or SE

2.-  April to end of August: Best kitesurfing conditions of the year
Perfect winds for learning, most of days thermal winds lasting 4 to 6 hours
Infrequent storms, during April and May some occasional stronger winds
3.-  September to December, end of thermals, sometimes ocasional storms from NE or N
Many days of calms and rather uncertain winds, sometimes winds from S
Very unreliable time for having good kitesurfing lessons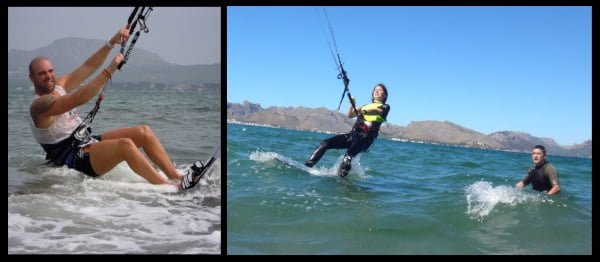 4.-  December to March, the coldest time of the year
calms and windless days alternating with storms, some of them with very strong winds.
Winds from N and NW, also from NE which generally bring rain
Some years also winds from S, SW a bit warmer that those from the N
Water is yet cold, very few days or none of good wind for teaching
It is understandable that not every year is equal to the past year. The goal of this blog entry is to give the closest approach to the real wind conditions which we have in Mallorca through the year.  Before to chose your kitesurfing time to visit our island, before you buy your ticket or book your hotel or apartment, contact us for advice.