Kite-Landboarding action in light wind in big Alcudia MALLORCA – the beach in winter.



DETAILED INFORMATION
ABOUT REAL KITE BUGGYING
https://www.powerkiteshop.com/
gettingstarted/kitebuggy.htm#powerkitework
BEST KITE LANDBOARDS 
After a kite session with South winds in Alcudia beach, one of this winter days in which the beach is free of people and when all the other kiters are already gone, leaving the beach almost to ourselves.

Taking profit of the low tide and the hard wet sand, one of our kite friends try to ride its street board dragged by his 9 mts tube kite.

Kite-landboarding in Alcudia MALLORCA
In fact, among the many beaches of our island, Alcudia beach is the only beach of Mallorca, in which the condition of the sand, the wideness of it and the wind direction provides us with the advantages necessary to practice landboard dragged by your kite … only during the winter time and on an empty beach, of course.
Therefore, if you have a landboard on regular wheels, this is your best chance to use it, trying a manoeuvre in broad Alcudia beach thanks to the hard beach bottom during winter season, and to enjoy hundreds of meters of free empty space where have your buggy rides and even throw a small kite jump … say hello to the camera !!!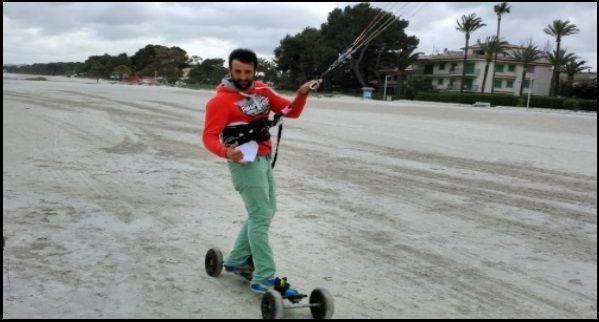 HOW TO LEARN KITE BUGGY