Now that, yet in winter, we have the general uncertainty of this season in which we have windless days alternating with storms, it is when one remembers the good old times. Kiteschool during Mallorca thermal winds.


Therefore, in memoriam of the expectable and mild but profitable thermal winds we enjoy in Pollensa Bay in Mallorca island during the kite season, that is from March until end of September, we are uploading this blog entry.
On the photo over this lines we see two of our club members. Josep is helping a new member, Jose, on his first waterstart steps.
Jose joined Asociacion Aprende a Navegar and took a 3 days kite course. Now, at the end of his practices and before buying his own kite gear, is meeting with Josep, another of our kite club members and he is receiving help and advice.
How to learn kitesurfing?
Once he is positioned on the board, after stretching his legs, Jose send huis kite forward and as he receives the impulse of it, make pressure on his back leg while keeps stretched his front leg
First waterstart mallorca kiteschool
In few moments Jose is standing on the board and advancing meters easily …
He is gaining speed and now he has already covered the first two hundred meters, passing in front of Martin, who was his kite teacher two days ago
Successful first kitesurfing ride in Pollensa
José has covered 400 mts, now, with the confidence that grants to have all in control, he switch direction and starts riding towards where he started his kitesurfing ride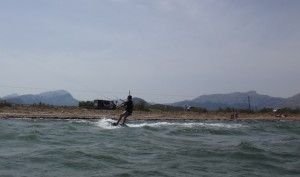 The kite is a Peak Flysurfer 9 mts and the board a model XL 170×50 cms Flysurfer, the perfect tools for starting kiktesurfing and get the best of your kite lessons with mallorca kiteschool
Jose first kite day / kiteboarding school Mallorca
Jose has surpassed where he first started his kite ride, now, heading towards Sa Marina is riding free of obstacles his first kilometer
We can see him in the distance in total control and at good speed. It is easy to imagine how thrilled and happy he must feel. The first ride is something that you'll never forget, evenmore when it is a successful one and in which you are not just able to ride but to return to your starting point.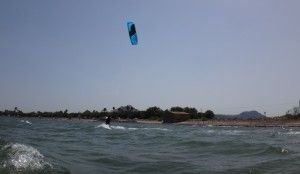 For a successful kitesurfing learning, join Asociacion Aprende a Navegar and Kitesurfing mallorca kite school. We offer you the best tuition in Mallorca, with the best professional kite monitors and on the best learning conditions.
We are looking forward to see you again next summer!