Have you heard about kitesurfing in Southeast Asia?
Did you even thought about the possibility of having your kitesurfing lessons in Vietnam?
If the answer is yes, you probably have heard also about tropical weather, warm waters, gentle breezes and friendly people.

FOLLOW THE LINK
http://www.edmkpollensa.com/es/vung-tau-vietnam-kitetrip
Perhaps now it is time to know about a well kept secret:
An almost unknown kitesurfing location, not far from Ho Chi Minh city which offers a great, wide beach.
Offering both, waves and flat water spots where side to side-on breezes blow between 12 and 25 kts daily in the period of time between the months of October and April.
VUNG TAU – KITESURFING DESTINATION
See more about Vung Tau kitesurfing destination by clicking on the following links:
http://kitesurfinglessonsvietnam.com/fr/pourquoi-lecole-de-kitesurf-au-vietnam
http://kitesurfinglessonsvietnam.com/fr/lecons-de-kitesurf-au-vietnam
Where is located kitesurfing lessons Vietnam kiteschool
Our kite school it is located in the coastal city of Vung Tau.
The city of Vung Tau is 125 kms from Ho Chi Minh city and can be reached by car, bus or fast ferry boat in 2 hours.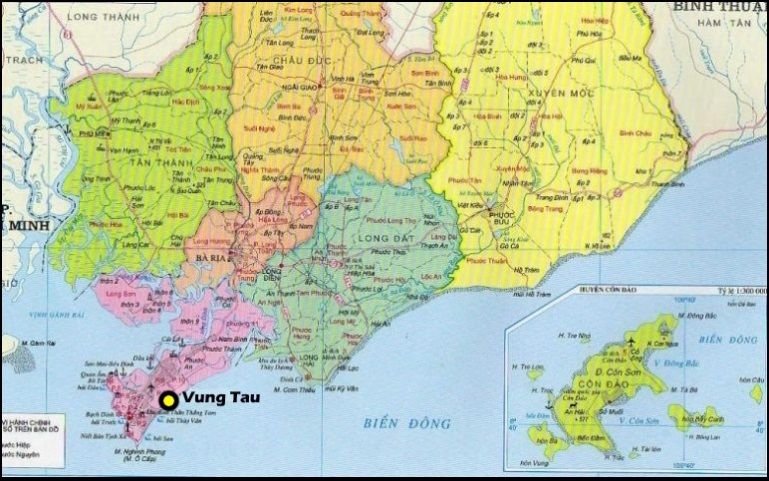 Great kitesurfing spot in southern Vietnam – Vung Tau city
Vung Tau is a mid size town with all the amenities and services which will make your kite holidays decision, a great choice.
In Vung Tau we will find a relaxed laid back style of life, very affordable accommodation and a friendly atmosphere where to spend your vacation and also fantastic kitesurfing conditions.
There are many buses connecting Vung Tau with Ho Chi Minh city and also a Hydrofoil boat service through the Soirap river, until Vung Tau port.
The biggest beach of Vung Tau city, also know by the locals as Bãi Sau, it is 14 kms long  and receives in winter the best winds for kitesurfing.  In low tide, which happens twice a day, the beach can reach sometimes until 100 mts broad.
Bai Sau beach it is busy by local beachgoers and swimmers only on its first 3 kms, especially during weekends, being from Monday till Friday almost deserted.
On its last part Bai Sau beach limits with the eastern branch of the Dong Nai river which separes Vung Tau city of Long Hai city, on the right branch of the bank river.
Our kitesurfing lessons
Our kite lessons in Vung Tau city start with an explanation of the basics of how a kite works and how we control it with our commands from the kite bar.
On a next step we follow with our practices in shallow water and during our progression we will use different kite sizes and length of kite lines.
From this first step in our tuition we pass to body drag, board positioning and first waterstarts.
The most part of our lessons take place over the shallow sand bank which is at the end of the beach.
The sand bank is hundreds of meters large and its depth goes from knee deep to waist deep.
The flat shallow waters on the sand banks at the last part of Vung Tau beach facilitates greatly the kitesurfing learning and practices.
Often, we reach the last part of the beach where our kite lessons take place by motorcycle through the broad Bai Sau beach in mid/low tide, riding our motorbike on the hard sand, which adds an interesting experience to our lessons.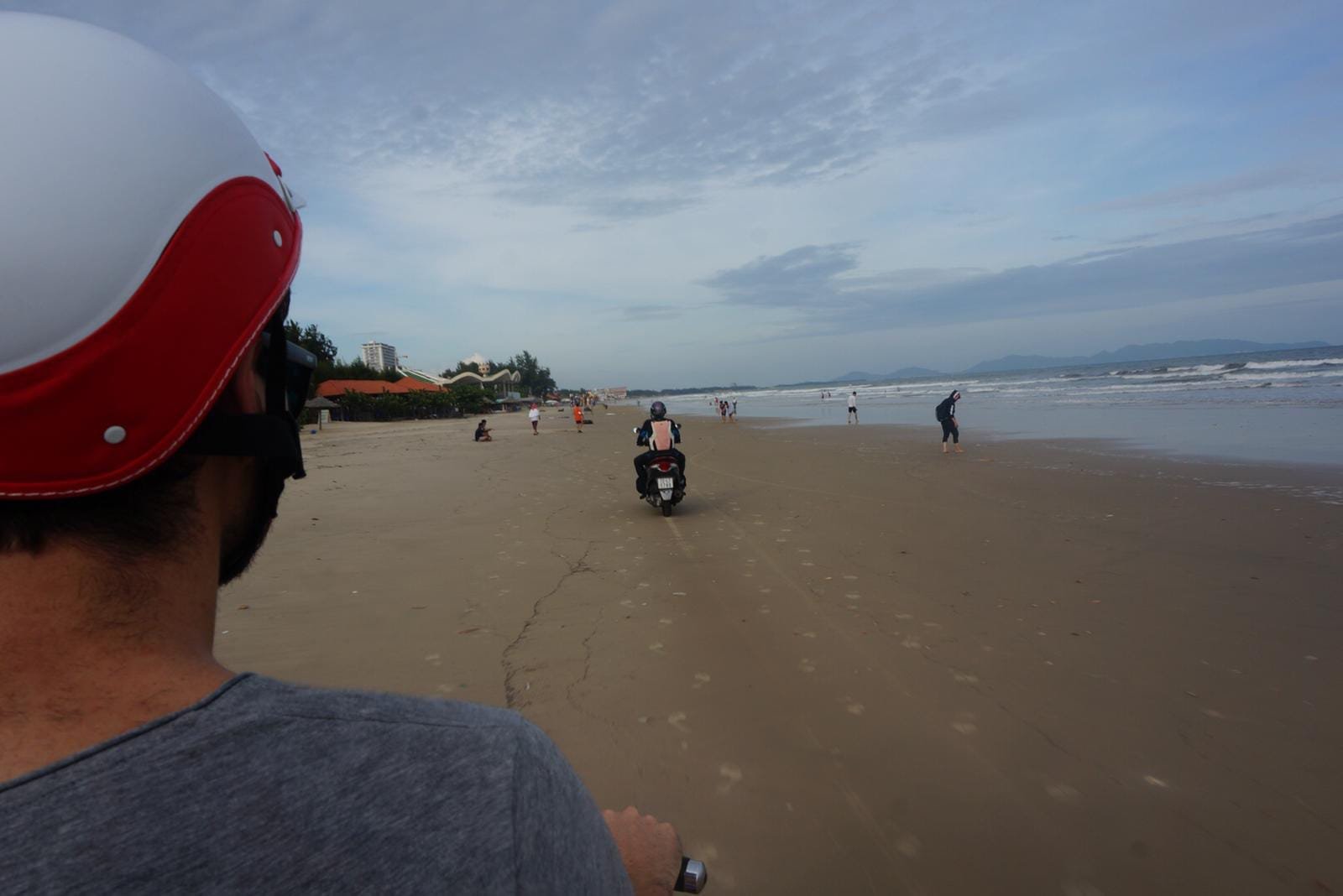 During the high tides periodes, our kitesurfing spot can be, as well, reached by road.
Price of kite courses
Our kite lessons price one day: 3 hours lessons is 120 euros – 3.200.000 Vietnam dong
Full kite course price 3 days/9 hours for 300 euros – 8.000.000 Vietnam dong
Contact
You can book your kitesurfing lessons in Vung Tau by sending us an email to
kitesurfinglessonsvietnam@gmail.com
Also by contacting Zalo, WhatsApp or Viber to +84 797392871
How is the wind and when to visit Vung Tau
Our kite school is operative between the months of October to April, coinciding with
the dry season where the Monsoon winds blow from the Northeast direction.

first hour jumping lessons in 25 kts in a rare cloudy day at the end of Vung Tau beach

riding in small waves December kite session Vung Tau


kite action in January

Bai Sau Vung Tau kite beach

from behind the kite bar Vung Tau kite beach Bai Sau
Accommodation
There is a broad range of accommodation in Vung Tau city, starting from 10 euros per day up to until 150 euros.
You can contact us and we will arrange your accommodation, free of charge from our side,
offering you the different options according to your preferences or your budget.
THE KITE SCHOOL IN WINTER
This link takes you to our kitesurf page in Vietnam CLICK HERE
This link takes you to our Facebook kitesurf page in Vietnam CLICK HERE
KITESURFING LESSONS VIETNAM
The best kitesurfing holidays in a great spot and enjoying the perfect winter winds of Vietnam!