Learn kitesurfing in one day
It can be achieved? Is that possible?
Learn kitesurfing in just one day?
No, it seems that no, I do not think so … or … perhaps …
In any case it has to be a real Superman!
Learn kitesurfing in one day
Let's stop guessing and let's see through the next lines and the photos we have been taking, if it is possible … As the old saying: a picture is worth a hundred words, let's see if this is true.
Hence the heap of photos that have been taken of Tomeu -this is how our hero and new partner of our Association it's named.
If at first sight an Adonis of kitesurfing does not seems, a "wreck" does not seems either. As a young man, he is well-built and although he does not reach the category of an athlete he doesn't look as an under feeded guy neither.

during his first minutes of kite learning in Mallorca in Jun
The guy endured four hours of continuous training by one of our kite teachers, I mean, to be able to endure the physical effort necessary to wage such a battle, the considerable effort of temperament and athletic-moral endowment (fifty percent) to withstand the continuous anger, the constant and countless corrections and the real bellowing as it was moving away from his kite teacher advices.
In other words, Tomeu could not be considered as easy bone to gnaw.
Learn kitesurfing or die in the atempt
Our kite teacher kept repeating his commands and advices with pneumatic regularity – that is, PUM – PUM – PUM, while Tomeu continued repeating his newly acquired string of endless errors, in the almost vain attempt – for the teachers part – to bring him back to reality and take him down from the cloud in which the brain of Tomeu had taken refuge when, with the foreseable stubbornness of the human being, Tomeu tried in vain to continue with his eyes fixed on the kite.

after a short while he's already sliding majestically over the waters helped by the kite
Or, in another way, said in Sa Pobla's Arabic language, which I do not think any of you my readers are able to understand neither: no prrrimo, do not follow your watching the kite up there, that you make angry mister professor … at the same time that you make the ridiculous of yourself.
Okay, actually that language is half German half Moor settled in Sa Pobla – if there is someone who has taken such a curious and inexplicable decision -to move there-. In fact, everything is possible in the world we live, at least in crazy Mallorca.

Rich's firm but friendly hand brings the kiteboard closer
In short, dialectical disquisitions aside. Here are the photos of the aforementioned, in which, clearly you can see his more than evident progression in just a matter of a couple ofhours -not so much his fine kitesurfing style-
The outcome
But let's not forget and recognize that the man was on his first day of real lessons, I mean, real ones, so … there is no other way but to applaud his courage, his success and his undeniable resistance to whatever was thrown at him -mostly advices.

and magically rises from the liquid that surrounded him an instant before
Later, water on his neck and at the end, grabbed by the throath by the kite teacher in as stated before, the vain attempt of making Tomeu low his eyes from the kite up there to get back to reality and to notice his list of mistakes while performing his actions on the kite bar.

and starts navigating kitesurfing is easy when the Gods are by your side

and it seems that yes, the push of the breeze is coming until …

riding forward, holly winds of July in Mallorca

This is the moment in which, with a certain grace and elegance and in an unexpected turn of direction, he passes in front of the suffering kite teacher

riding away and in total control kitesurfing Mallorca kite lessons with Tomeu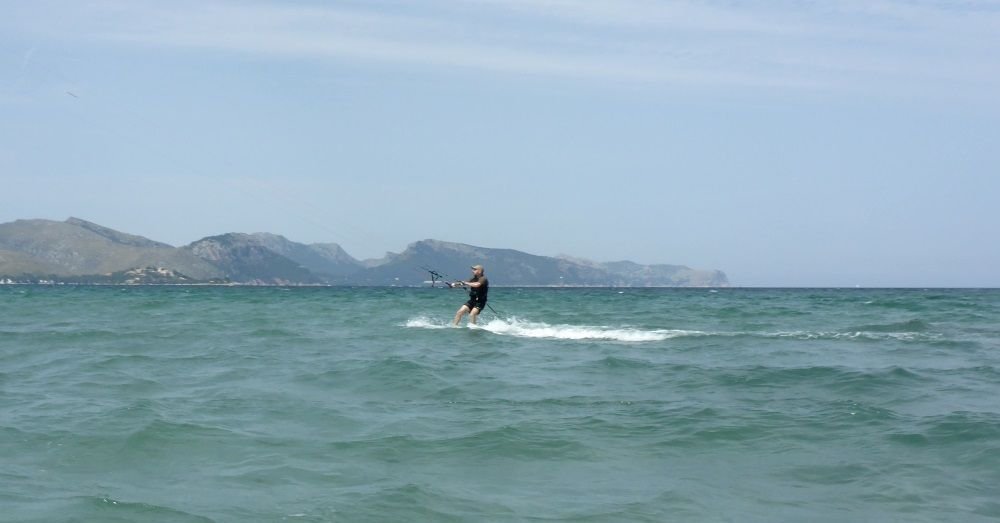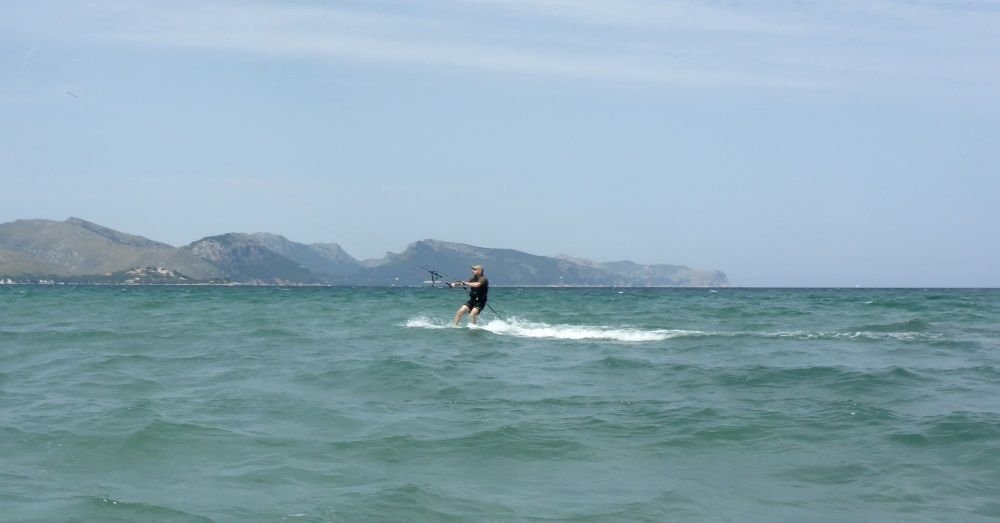 Tomeu gets kitesurfing away hundreds of meters

let's cheer Tomeu and his amazing achievement

and that way Tomeu ends up riding back and forth in only 3 hours of kite lessons
After enduring under his teaching and tutoring 4 hours, and just for that, our friend Tomeu
… What can be said about him?
Tomeu is a monster! a monster of skillfulness and dedication
… and definitely he deserves a big, long and loud ovation.